Open House weekend in London is one of those things I find easier to like in theory than in practice. Lots of cool buildings are open, some of which you can't usually get into, but you have to queue up for the best places, or book long in advance, or enter your name into a ballot. I wasn't successful in the ballots I had entered so I only went to one place, Leighton House in Kensington, which I wanted to visit anyway.
Leighton House was built by Frederic Lord Leighton, the nineteenth-century painter. Apparently he amassed a huge varied collection of art objects, but after his death it wasn't possible to keep them all together. The contents of the house now were put together quite recently, with the exception of the Narcissus Room. This is a high square room with a little square pool and fountain in the middle of the floor. It's set all around with a collection of seventeenth-century decorated tiles from Damascus; apparently Leighton showed the tiles to a friend who was an architect, who gave him the idea of building a place to put them in. Some of the tiles are skilled copies to complete the pattern, but most are original, and the one room constitutes an important British collection of Islamic ceramic art. High up in the walls it has bright glass windows also from Damascus. There's also a gorgeous mosaic frieze designed by Leighton but made for him in Venice with three different colours of gold, and the tiles set out of alignment so it sparkles. Actually gorgeous is the word for the whole room. The rest of the house is less remarkable but quite likeable, and there's a lovely garden. When I went there was an exhibition of pre-Raphaelite paintings, which was pleasant enough.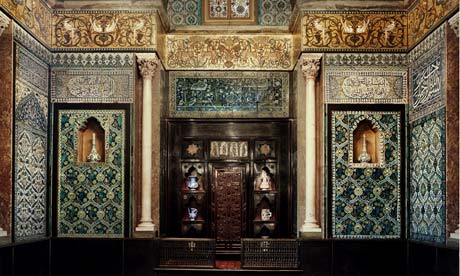 It's open all the time but with a charge, and it might be nicer to go when it's less busy than Open House weekend. But because of the event there was an expert there who explained to me why there was
no Lord Leighton in the Tate Britain exhibition
. Apparently although Leighton got on with the Brotherhood in a rivals sort of way he had a very different background and ethos. When he first exhibited at the Royal Academy summer exhibition the critics specifically lauded him as a young painter who wasn't involved in the newfangled pre-Raphaelite thing. But to me his work looks quite similar to theirs.